Flexible Powered Conveyor – Smart Optics
The Smart Optic comprises a Sensor that is normally fitted in the last conveyor Zone at the Discharge end.
When the product covers the Sensor, all motors along the conveyor length automatically stop, then restart upon product removal.
Smart Optics can be positioned at both ends of the conveyor if required for reversible conveyors.

Deactivation of the Smart Optic Sensor can be achieved by means of a Turn-Switch located on the Panel, thus making the conveyor a transportation conveyor only.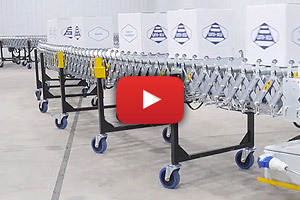 Back to Overview