Flexible Powered Conveyors – Indexing
Indexing conveyors provide a simple and economic method for the accumulation of products. Here the conveyor is equipped with a Sensor at the Infeed and Discharge ends.
Upon the product reaching the first Infeed Sensor, the conveyor will start up and run, clearing product forward and away from the Sensor. This procedure is repeated until the products reach the Discharge Sensor, thus creating a completely full conveyor.
When the Operator removes a product at the Discharge end, the products once again move forward allowing new products to be loaded at the Infeed end.
The conveyor is also fitted with a Clearing Switch, allowing the Operator at the Discharge end to 'call forward' all products towards the Discharge Sensor.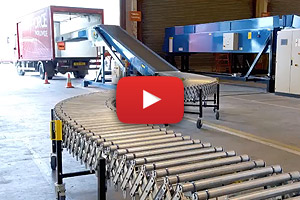 Back to Overview