Flexible Powered Conveyors – Interconnected
The conveyors enable the user to quickly and easily connect two conveyors together to form one long conveyor run. When not connected together, the conveyors can be used independently.
Lengths up to 50 metres can be achieved when two conveyors are connected.
Conveyors are joined together using cables fitted with 32A CEE CARA Plugs for power transfer and Harting Plug/Socket signals for control transfer.
Once coupled, all Start/Stop and Emergency Stop Buttons will be linked, i.e., any Start/Stop Button can be used to Start or Stop both conveyors and if an Emergency Stop is actuated, both conveyors will stop.
Zero Line Pressure Zones and Smart Optic Package Stops can also be incorporated into this design of conveyor.
---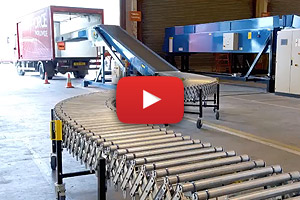 BACK TO FULL RANGE