Flexible Powered Conveyor – Zero Line Pressure
Zero Line Pressure Accumulation is achieved by using Sensors to control ON/OFF of the Geared Motor Unit within each Zone.
Product travels along the conveyor to the final Zone where it is detected by a Sensor, whereupon the Motor driving this Zone will stop. The remaining conveyor rollers will, at this point, continue to run and accumulate products along the track using the same process. Each Zone is fitted with its own Sensor to detect product movement.
When a product is removed from an Accumulation Zone, all preceding Zones will automatically move product forward into the newly unoccupied Zone.
Each Zero Line Pressure Zone length is dependent on the roller pitch required.
75mm pitch – Zone length is 0.75 metres.
100mm pitch – Zone length is 1.00 metres.
125 mm pitch – Zone length is 1.25 metres.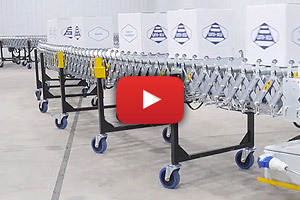 Back to Overview